Whiteboard Buying Guide
The right whiteboard can help facilitate great brainstorming sessions and other forms of collaboration and information sharing.  The wrong whiteboard can definitely be a hindrance.
5 Tips to Find the Best Whiteboard For You
To help you avoid mounting the wrong whiteboard on your workspace wall we advise asking these 5 questions to make sure that you buy the best whiteboard for your needs.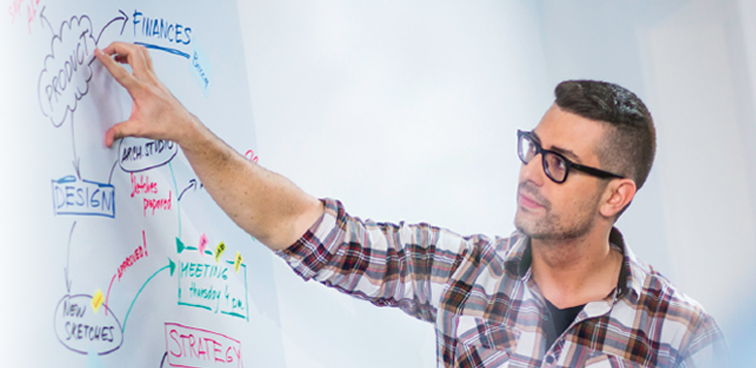 It's easily overlooked when browsing catalogues or websites but the most important factor when selecting a whiteboard is its surface.  If you prize erasability above all else then start by shopping for a glass whiteboard.
Entry level boards are generally made of melamine and are more susceptible to knocks and scratches which lead to surface deterioration.  Enamel and steel boards offer more durability and better erasability properties. 
There are generally four types of surface to select from.  Our whiteboard selector will help you select the most appropriate whiteboard surface for you needs.
Not all whiteboard surfaces are the same.  Flatter and more durable surfaces offer fewer imperfections for ink to gather and build up. Glass and Nano Clean boards are far easier to keep clean than standard whiteboards surfaces.

Five Star
Boards offering the best levels of erasabaility require no specialist cleaning products and resist staining and ghosting for longer periods.

Four Star
These whiteboards are designed for frequent use and therefore offer a smoother writing surface that requires less intensive cleaning to maintain their appearance.

Three Star
Boards offering good erasability meet our minimum standards for professional usage.  Poorer surfaces are treated to increase erasability over basic boards by 30%.

Two Star
Basic boards meet Nobo quality standards but do require a good cleaning regime to prevent ghosting and staining.  These boards are perfect for infrequent or domestic use.
Durabiliy to how long your whiteboard lasts. Ensuring that your whiteboard is not replaced saves both time and money. Select the durability rating that delivers the peace of mind that you seek.

Five Star
Our most durable whiteboards are designed to excel in high frequency of usage and multi user settings and tough enough for us to support them with a lifetime guarantee against scratches and dents.

Four Star
These whiteboards offer high resistance against scratches and dents and are supported by a lifetime guarantee.

Three Star
Durability designed for performance in professional, frequent use and multi-user environments and therefore supported by a long 15 year guarantee.

Two Star
These whiteboards meet Nobo's exacting standards and while not our most durable surfaces, still warrant an impressive 10 year guarantee.
A whiteboard that is seldom used is not going to require the same performance properties or cleaning regime as a board that is in constant use.  Boards that are in frequent use should offer high durability that is less prone to ghosting and staining over prolonged periods.
A whiteboard that offers good erasability is recommend for offices that rely on the people booking the meeting room to clean the whiteboard after use rather than employing a dedicated whiteboard cleaning regime.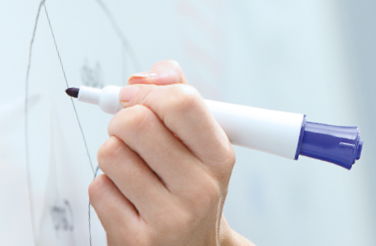 If your workplace policy demands that a meeting room should be left the way it was found an easy to clean whiteboard is more likely to aid employee compliance of your policy and be wiped clean by a departing group as the next group enters the room.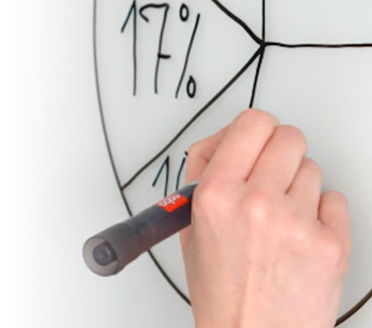 This is often dictated by the size of the wall or the physical attributes of the room.  When picking the right whiteboard size ensure that all areas of the board can be reached by the user – there's little point buying a giant whiteboard if the upper part of the board can't be reached. 
Likewise, a small board may not be conducive to interactive sessions with multiple participants or may constrain the amount of critical data that can be displayed when used for information exchange in a hospital, classroom or call centre setting.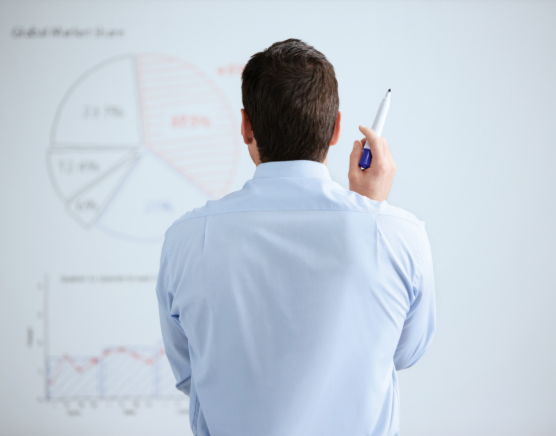 If you want to use your whiteboard for a brainstorm, a large format board is perfect, whereas for a private mind mapping exercise a smaller board may suffice.
Mobile options are available for whiteboards that need to be used in several different locations and most flipchart easels double as a whiteboard surface.  If a board is going to be hung in a customer facing environment the aesthetic of the board itself may warrant more consideration than if the board were being used in a warehouse for instance.  A frameless design creates a floating effect that can elevate the feel of a conference room.
Board aesthetic becomes an important consideration for retailers and hospitality sectors where glass whiteboards marry the need for erasability and durability with aesthetic appearance.

If the location or your whiteboard does not offer convenient storage for pens are erasers the addition of an integrated pen holder is paramount.  While many boards are magnetic and magnetic pen holders and erasers are common place, if the board is located in an area with a lot of people traffic an integrated option is likely to be walked into or to be relocated to another magnetic whiteboard.

The whiteboard you select will likely be a permanent fixture for many years.  By asking these 5 questions before you buy a whiteboard you'll stack the odds of selecting the best whiteboard in your favour.  Better still, use the Nobo whiteboard selector to help you refine our range glassboards and whiteboards until you find the best whiteboard for you.